Training Day review arresting big-screen thriller sentenced to juvenile TV reboot
Bill Paxton fails to fill Denzel Washingtons Oscar-winning boots in yet another entirely unnecessary small-screen redo of a hit movie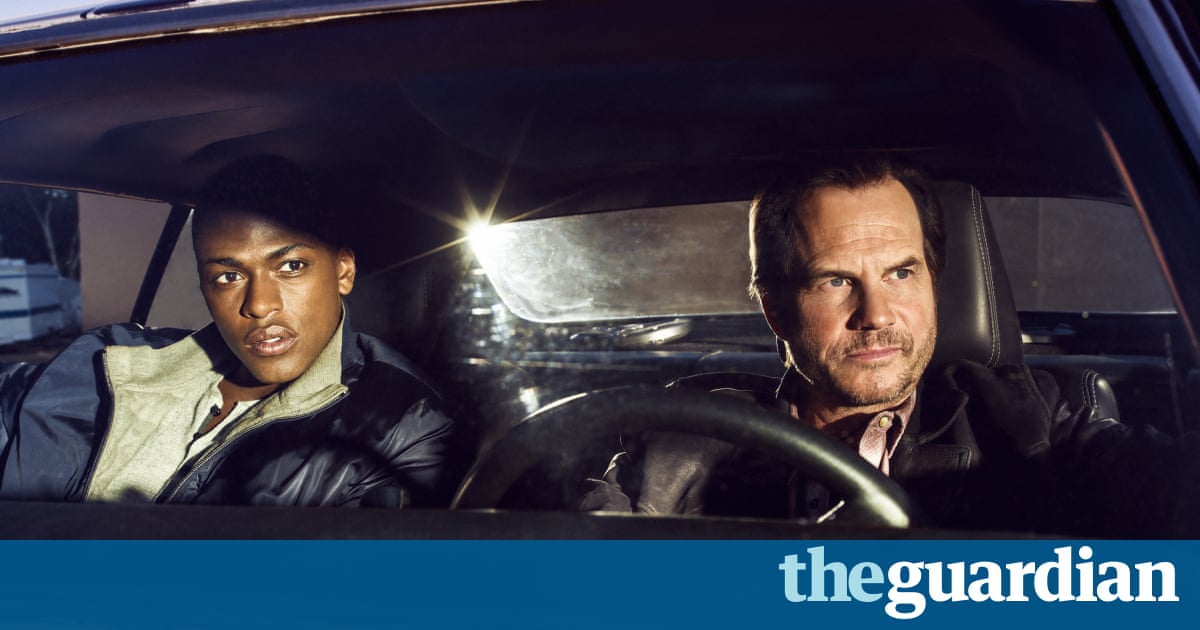 When historians pause from sifting through the golden rubble of WWE hall of famer turned incompetent president turned whiny dictator Donald Trumps legacy, theyll pore over TV schedules and earnestly wonder: when did execs become so creatively bereft that they had to remake every other movie ever made rather than come up with new ideas?
Its not exactly a new trend but, good Lord, its become staggeringly commonplace over the past year with The Exorcist, Lethal Weapon, Westworld and Damien all premiering and with Taken, The Departed, Snatch, Single White Female, Snowpiercer, The Mist and Shutter Island all to come. Which brings us to Training Day, Jerry Bruckheimers entirely ill-advised attempt to cash in on the frenzied 2001 thriller that bagged Denzel Washington an Oscar.
The twist here is that we have a race reversal: the corrupt veteran cop is now white while the young law-abiding trainee is black. Newcomer Justin Cornwell plays Kyle, an idealistic cop who hopes to maintain his fathers legacy while also trying to you might have guessed this solve his murder. Bill Paxton plays Frank, a grizzled but annoyingly friendly corrupt cop who Kyle goes undercover to investigate, despite the latters inexperience. And so the day begins!
Right from the very first, hammy slab of voiceover, its clear that we have exited the exciting world of cinema and been violently kicked out in the middle of the CBS schedule. While the film itself might have required a hefty suspension of disbelief at times, director Antoine Fuqua still created, along with screenwriter David Ayer, a feeling of gritty authenticity, two words that are entirely foreign to the Ma-and-Pa audience of the highest-rated network.
The shows cheap, procedural aesthetic might be a CBS standard, but its made even harder to endure when compared to the stylish source material. Everything feels sanitized and stale from the hackneyed dialogue (You think youre out there chasing crooks, youre not. Youre chasing your fathers ghost) to the defanged characters (Washingtons frightening malevolence has been replaced by Paxton helping out kids). Quite what the point is of taking a fascinatingly amoral antihero and turning him into a lovable rogue with an armory of wisecracks is infuriatingly unknown.
Since Training Day was released in 2001, theres been something of a seismic shift in public attitudes towards police after a string of heinous acts of violence towards unarmed civilians of color. The racial switch of the leads hints at this realization and in one scene, theres an interesting conversation about the pairs differing attitudes to police brutality. But the relentless pace and keen desire to keep things light means that such issues are tossed aside and replaced with dumb cliches (foreplay interrupted by a beeper!). Whats even worse than the tired formula is the desperate string of attempts to be relevant with incessant pop culture references (The Purge! Lil Wayne! Ermmm, Babe!) and an entirely misjudged scene involving a violent monkey that hates Daft Punk. It feels like the work of a mismatched committee, given a thankless job and struggling to provide a justification for its existence.
Paxton has fun at least (someone has to), but Washingtons work was so vibrant and terrifying that it feels bland in comparison while Cornwell has definite presence, but hes saddled with a one-note role. What Training Day manages in its first episode is explain exactly why the big- to small-screen trend is mostly regrettable. It replaces zest with vacuity, murkiness with clarity and unpredictability with crushing familiarity. In an era when trying to keep up with an ever-growing list of unmissable shows seems intimidatingly impossible, heres one you can easily cross off.
Training Day premieres on CBS on 2 February at 10pm
Read more: https://www.theguardian.com/tv-and-radio/2017/feb/02/training-day-review-tv-reboot