DeploraBall: Trump lovers and haters clash at Washington DC event
Hundreds of demonstrators gather to wave placards and shout slogans at the National Press Club where pro-Trump event was held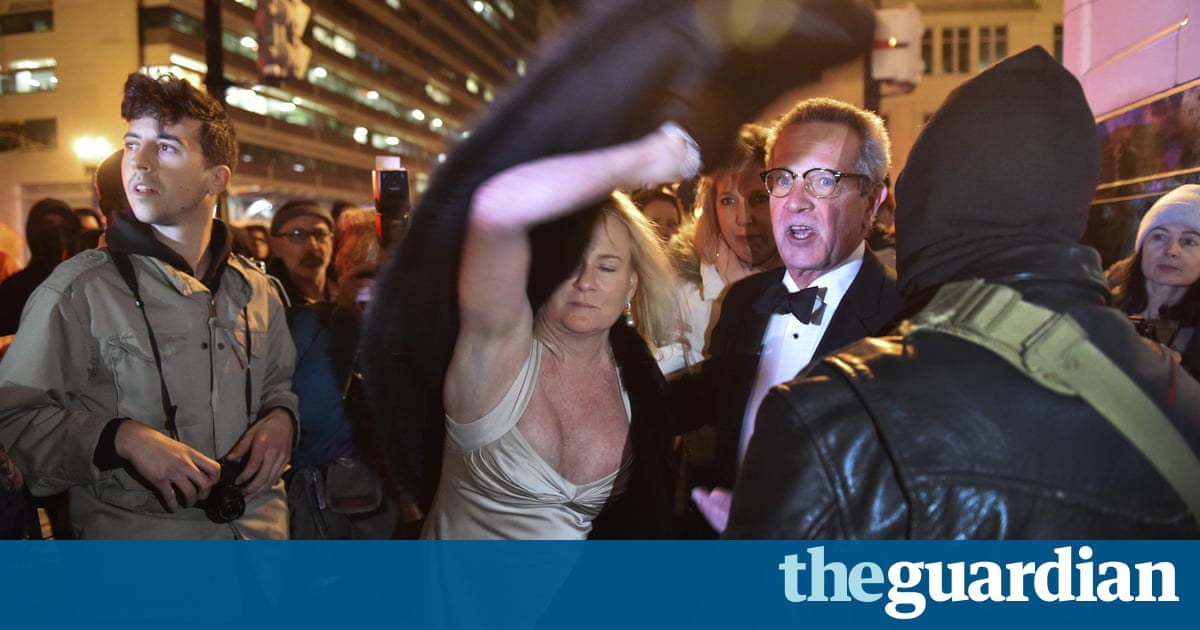 Chaos erupted outside the DeploraBall on the eve of Donald Trumps inauguration as protesters clashed with supporters of the president-elect.
Nazi scum! a masked man yelled through a police barricade at a woman in a sequined gown as she defiantly waved her ticket for the event. A woman held a sign that read Look, Ma. Its a racist misogynist with an arrow pointed toward the guest line. In response a man flipped open his suit jacket to show her his shirt, which read: Deplorable lives matter.
Hundreds of protesters filled the street in front of the National Press Club, the chosen venue for the DeploraBall, a name inspired by a remark made by Hillary Clinton, who referred to some of Trumps supporters as a basket of deplorables. Law enforcement blocked off the street to cars for the protest on Thursday night. Two rows of police in riot gear guarded the entrance to the club and much of the sidewalk.
A number of the balls attendees were thought to be associated with the alt-right, a far-right movement in the US that has praised the Republican president-elect. The event has also revealed friction within the movement, as the DeploraBalls organizers distanced themselves from the extreme elements of the group.
The movement has come under intense scrutiny following a conference in December 2016 when Richard Spencer, the white supremacist who coined the term alt-right, declared: Hail Trump, hail our people, hail victory! and some in the audience gave Nazi-style salutes.
The event attracted 1,000 of the president-elects most fervent supporters in an evening dedicated to celebrating Trumpism in the city he railed against. The dress code, according to the events website was black tie optional aka fun formal aka no rules.
From behind the police line, protesters flashed middle fingers and shouted obscenities and insults, calling the guests fascists and racists. The red hats are better than white sheets, one man said. Watch your pussies, ladies, a woman shouted at female attendees.
The taunts occasionally turned to the police. Who are you protecting? the crowd chanted after the police cleared the sidewalk.
An inflatable white elephant emblazoned with a banner that said racism loomed over the crowd. Protesters in hoods and masks set fire to a pile of placards in the middle of the street. Another group beamed floodlights at the top of the building to project the message: Impeach the Predatory President.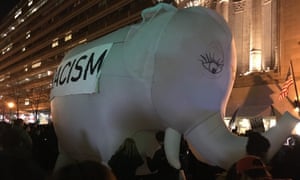 Read more: https://www.theguardian.com/world/2017/jan/20/deploraball-trump-lovers-and-haters-clash-at-washington-dc-event