'American carnage': Trump's vision casts shadow over day of pageantry
In Donald Trumps first speech as US president, he offered a sinister view of the US: cities afflicted by crime, political elite in control and closed-down factories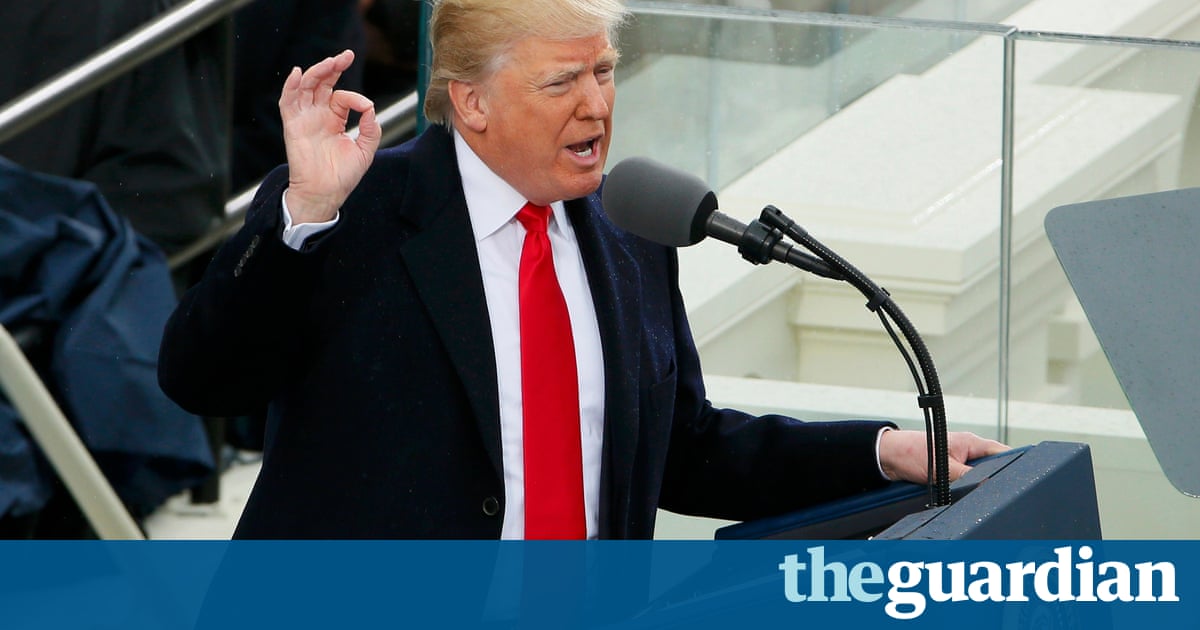 At the stroke of noon, as is the American way, power passed from one man to another man. And with that passing of the baton from Barack Obama to Donald Trump, made manifest in a 35-word oath, the country was changed beyond recognition as the new president offered a dark vision of his nation and the world.
The new 45th president of the United States coined the sinister phrase American carnage to vividly conjure an image of inner cities he said were afflicted by crime, a political elite that had forgotten ordinary people, and a landscape of rusted factories like tombstones.
And with Hillary Clinton watching only a few painful feet away, Trump left no one in any doubt that he intends to unleash what he called a new vision of America first on the world, delivering a brutal and unrepentant speech that made little attempt to soothe the world or begin the healing of an agitated and anxious nation.
Trump delivered a 16-minute inaugural speech that more closely resembled his thunderous addresses from the campaign trail than the oratorical heights of his predecessors, berating the Washington elites of both parties for ignoring the American people and allowing inner cities to fester in crime and gangs and drugs.
The American carnage stops right here, right now, he said. From this day forward, a new vision will govern our land. From this day forward, its going to be only America first. America first.
As Trump uttered the first sentence of his address, the slate-grey sky over the Capitol building opened up and it began to rain, pouring over the head of the incoming president and, just a few rows away, those of Clinton and her husband Bill. Having won almost 3 million more votes than her opponent, but gone on to lose in the electoral college, the defeated Democratic candidate listened silently as her vanquisher described a future for America that was entirely antithetical to her own.
Together we will make America strong again, wealthy again, proud again, safe again and, yes, together we will make America great again, Trump promised, his words prompting a wave of U-S-A! U-S-A! chants from a sea of red caps that stretched back to the Washington Memorial although white tarpaulins protecting the grass of National Mall revealed vast gaps in the crowd.
It was a peaceful transition of power, but hardly harmonious. With protesters already descending on the capital in droves for Saturdays Womens March on Washington, which is expected to comfortably outsize Trumps inaugural crowd, there were signs all over the city of the open gashes of a vicious and divisive election battle.
Long before dawn, protesters carrying placards saying fight fascism, not my president, no Trump, no KKK, no racists, go away were fanning through the largely deserted streets. There were tussles with police in riot gear as groups tried to block the entrances to the Capitol grounds, while some protesters managed to pass security and themselves gain entry; one woman dressed in pink shouting Stop GOP war reached the front of the tier directly below the new president before being escorted out.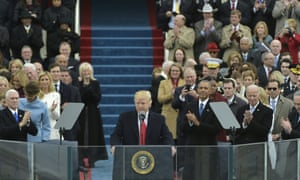 Read more: https://www.theguardian.com/world/2017/jan/20/donald-trump-transition-of-power-president-first-speech