Ontario police face inquiry into beating death of mentally ill black man
Witnesses describe handcuffed man lying face down in pool of blood as family friend reflects on very peaceful guy Abdirahman Abdi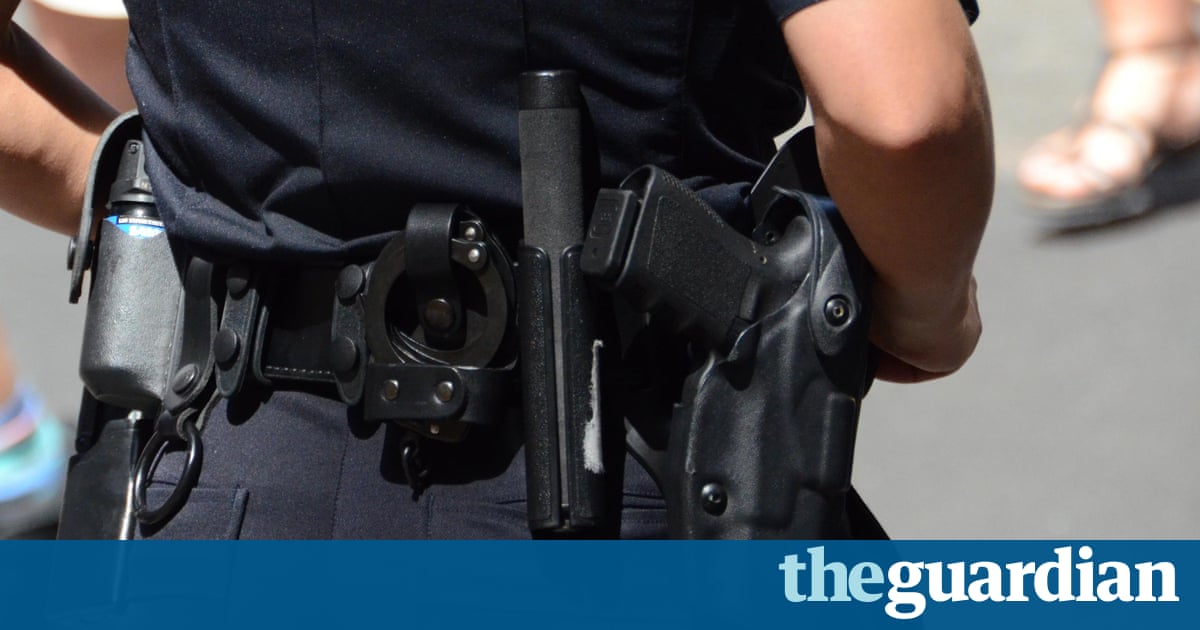 Ontarios police oversight body has launched an investigation into the death of a mentally ill black man in Ottawa after a confrontation with police left him beaten, handcuffed and lying face down in a pool of blood while dozens of horrified bystanders watched.
The altercation between police and Abdirahman Abdi, 37, began on Sunday morning after police were called to a coffee shop in the citys west end over reports of a disturbance. With police in pursuit, Abdi attempted to make his way to his apartment but witnesses said he was tackled by police who hit him with a baton and used pepper spray to arrest him outside his building.
Abdirizaq Abdi, Abdis brother, was one of the dozens who watched the altercation unfold from the apartments above. I heard the screaming, and then I come out and I see my brother lying down, police hitting so badly. Like, Ive never seen something like that in my life, Abdi told the Canadian Broadcasting Corporation. All of them, they were on top of him. He was under [them] they were hitting like [he was] an enemy. Ive never seen something like that.
Another bystander watched the situation unfold from his balcony across the street. They were really, really going at him and he was screaming, David Thyne told the broadcaster CTV News. Abdi was already in handcuffs, he added. He was pleading with them to stop.
Video obtained by the Ottawa Citizen showed a man lying face down on the ground, his shirt bloodied and hands cuffed behind his back, for nearly 10 minutes before paramedics arrived and began administering CPR.
Abdi was taken to hospital in critical condition, where he later died. According to the doctors assessment, he had been already dead 45 minutes before he arrived in the care of doctors, Nimao Ali, a friend of the family, told reporters.
The incident has renewed longstanding concerns over how police interact with people with mental illnesses and has raised questions over whether race played a role in the confrontation. Some have drawn parallels between Abdis death and that of Andrew Loku, a 45-year-old black man with a mental illness who died after a confrontation with Toronto police in 2015.
Ali described Abdi as a beautiful soul who had moved to Canada from Somalia some eight years ago. Its devastating. We know him, the gentleman. He has a mental illness, a very peaceful guy. I have children in the building and he walks around, hes good with the kids, hes good with all the neighbours, never a problem, she told CBC. And all of a sudden, that hes bleeding on the front steps of our building and dying, it was a devastating thing to see.
It was hard to fathom that this had happened in Canada, she said. I thought these kind of things only happened somewhere else, in America, you hear in the news. You dont think it happens on the doorsteps of your building.
Mariam Ali, a neighbour, also pointed to events south of the border to explain the lens through which many are viewing the incident. Due to recent events of, like, Black Lives Matter and police brutality in the States, were all pretty sensitive to issues like this, the 18-year-old told the Ottawa Citizen. We live in Ottawa and we dont really encounter these kinds of problems but the way that the situation played out, it seemed like it was because we were immigrants or we were black.
Abdis death is now being investigated by Ontarios special investigations unit, an independent civilian oversight body responsible for looking into reports of deaths or injury that involve police. In a statement, the agency noted there had been a confrontation and Abdi had suffered medical distress. Two officers are under investigation and five others are considered witnesses.
Ottawa police declined to comment, citing the continuing investigation. Our condolences to the family its very difficult for the family and for the community and for our officers, Charles Bordeleau, Ottawas police chief, told reporters. He would not speculate on whether mental illness or race was a factor, but noted that police officers were regularly trained on how to de-escalate situations involving people with mental illnesses.
Others were quick to point to the factors that might have aggravated the interaction between Abdi and police. The Ottawa city councillor Jeff Leiper visited the building on Sunday and spent about five hours speaking with Abdis family, residents and witnesses. The headlines and accounts of events today have left me shaken, he wrote in his blog. Several descriptions have been provided of the police striking him, which need to be investigated. There have been multiple accounts given that he has a mental illness, and that mental capacity likely played a role in todays events.
The National Council of Canadian Muslims called for race to be included within the scope of the investigation into the incident. It is critical that a full and transparent investigation be swiftly conducted so that Mr Abdis family, and the wider community, get clear answers, Ihsaan Gardee, the groups executive director, said in a statement. Many members of the Ottawa Muslim and Somali communities have serious concerns about how this tragic incident unfolded, including whether prejudice had something to do with Mr Abdis treatment.
Read more: https://www.theguardian.com/world/2016/jul/26/canada-police-beating-abdirahman-abdi-ontario