Profile: Bill Bratton steps down as NYPD commissioner as race and policing 'in crisis'
The 68-year-old, known for his championing of broken windows policing, will return to the private sector after his turbulent 31 months in office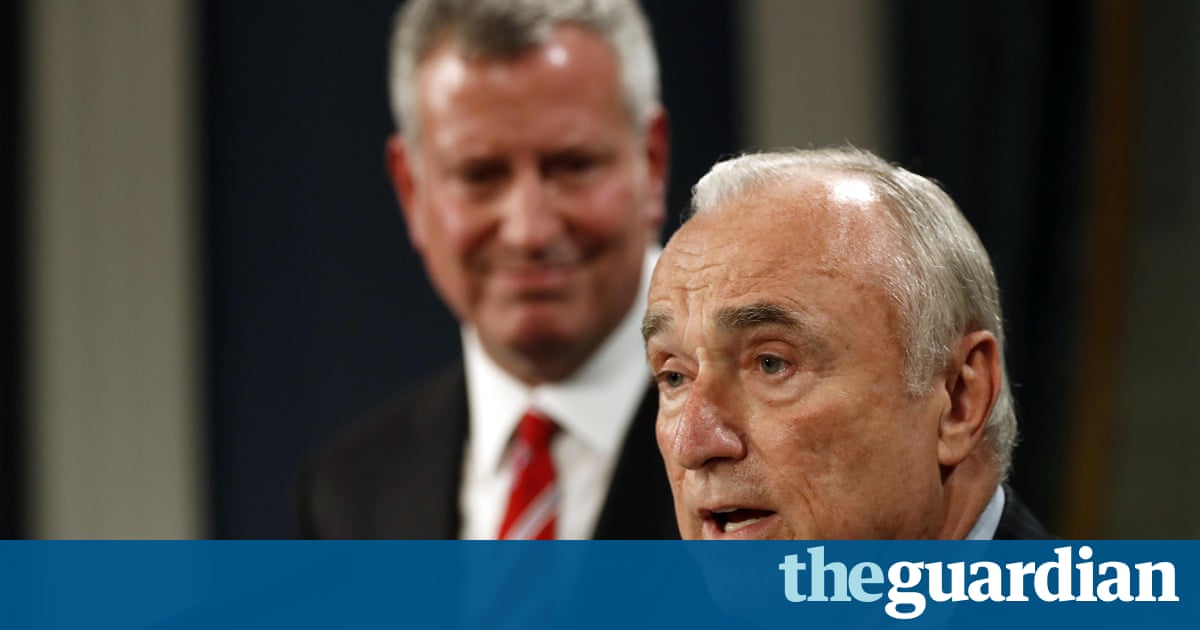 The controversial New York City police commissioner, Bill Bratton, explained his resignation from the worlds largest police force on Tuesday, saying that it was only with reluctance that he would step down from the city that made his name.
I wish I had more time, chronologically, to stay around for three or four years to work on the issues that are going to take that long to straighten out, the 68-year-old said. I dont have that type of time.
Bratton said he would return to the private sector, where he had been making up to $1.9m as a consultant in 2013, before he accepted Mayor Bill de Blasios call that year to return to the force. At City Hall on Tuesday, he said policing was the passion of [his] life.

Bratton grew up in Dorchester, a rough working-class neighborhood in Boston, and joined the citys police department in 1970 his accent still thick, though he called himself a proud adopted son of New York. In 1993, he became Bostons police commissioner, before being poached by New York Citys then mayor, Rudy Giuliani. He introduced a controversial strategy of broken windows policing, whose premise was that cracking down on low-level crimes, such as vandalism and public drinking, would reduce more serious crime. He also presided over a major expansion of the police force and a program called CompStat, a real-time database tracking crime around the city.
But Bratton and Giuliani clashed over credit for New Yorks sharp decline in crime, and the police chief resigned in 1996. He later returned to public life as the Los Angeles police commissioner from 2002 to 2009. By the time he had returned to New York, years of stop-and-frisk tactics, broken windows priorities that Bratton had helped pioneer, had worn on the citys large minority groups, who noted they were targeted in disproportionate numbers. The citys stop-and-frisk tactics were later found unconstitutional in court.
In his farewell speech on Tuesday, Bratton acknowledged the issues of race and policing were a crisis in America at this moment, but he argued that thanks to additional training and work by his department, the NYPD was handling it better than most. Still, his nearly three years as police chief have been some of the most turbulent of his career.
I dont think he had a single good day in 31 months it was just all hellishly bad for him, said Eugene ODonnell, a professor of law and police studies at John Jay College of Criminal Justice.
In July 2014, Eric Garner, a black man who was selling cigarettes without a permit in Staten Island, was killed by a police officer who put him in a chokehold, a banned tactic. After the officer, Daniel Pantaleo, who is white, was not indicted over the incident, huge anti-police brutality marches began closing down parts of the city at night. Then, in December 2014, Brattons worst nightmare happened: two police officers were assassinated while on duty in Brooklyn.
Unease grew between police, the public and politicians. Bratton tussled with the mayor when he demanded an extra 1,000 cops, and received the backing of the city council. He then fought with the city council when it attempted to decriminalize nonviolent low-level crimes, such as public urination and open drinking containers, with Bratton arguing that the minor arrests helped catch criminals.
In recent months, a police corruption scandal, in which two officers are accused of trading favors to a businessman, has been under investigation by the US attorney Preet Bharara.
On Monday, a group of Black Lives Matters-aligned protesters, organized by Millions March NYC, began occupying the park next to City Hall, calling on Bratton to leave.
Brattons resignation is a huge win for the NYC grassroots movement that, for years, has been fighting for the NYPD Commissioner to be fired and an end to Broken Windows policing, the group said in a statement published online.
Long time coming. [He] should have never been here, said Josmar Trujillo, a protester with the group New Yorkers Against Bratton.
ODonnell called Brattons resignation a watershed moment of American policing.
Hes the leading figure in the police establishment. I think he no longer wants to battle it out, said ODonnell, who added that he believes Bratton does not want to face declines in police recruitment and fears of anti-police violence.
Under Brattons leadership of the NYPD, crime dropped significantly, with historically low rates of murders and shootings and a decline in civilian complaints. He also introduced new police training, aimed specifically at reducing the use of force, and a focus was placed on neighborhood policing, the brainchild of Jimmy ONeill, an NYPD veteran who is taking over Brattons police commissioner role following his departure in September.
Bratton also oversaw a new push for tech in policing with CompStat 2.0, a pilot program of officers wearing body cameras although Bratton was hesitant to make the footage public and predictive policing, which maps crimes to focus police resources.
And despite the public tussles between the mayor and Bratton, the two both tried to emphasize their close bond on Thursday. In his speech, Bratton called De Blasio an extraordinary mayor who has been truly a partner, a friend and a leader.
Bratton said that he will now move to work at Teneo, a company that was founded by one of Bill Clintons former aides, where he will be executive chairman of Teneo Risk, a division focused on predicting and preventing risk.
Now youre going to the private sector you can buy me dinner once in a while and we can hang out, joked the mayor. Bratton laughed with a retort: Now I can afford to.
Read more: https://www.theguardian.com/us-news/2016/aug/02/bill-bratton-resigns-nypd-commissioner