The life and death of Luis Gngora: the police killing nobody noticed
No one tracks police brutality against the homeless so while some shootings make international headlines, the deaths of those living on the street barely cause a ripple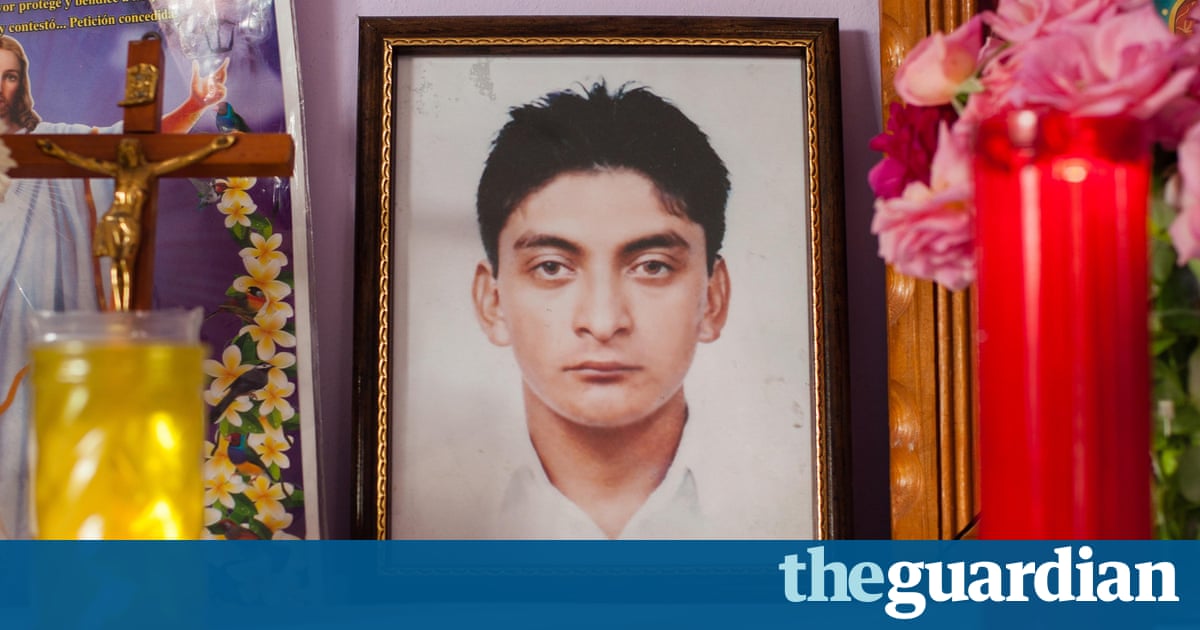 The man walked down the sidewalk, the blade of a kitchen knife glinting in his hand.
He had taken a break from playing soccer with an old basketball on the tree-lined street in San Franciscos Mission District.
Now he sat on the ground, his back against a building. Three pedestrians passed by, walking at a steady pace, apparently unperturbed.
Get on the ground! Get on the ground!
Two police cruisers had pulled to a stop, blocking the street.
Sergeant Nate Seger and officer Mike Mellone had stepped out of their cars, shouting as they walked toward the man.
Get on the ground! Put that down!
One of the officers carried a bean bag rifle. He cocked it and fired three times.
As the fourth and final beanbag round was dispelled, the second officer began firing with live ammunition. Bang. Bang. Bang. Bang. Bang. Bang. Bang. Seven shots.
It was the shot to the head that killed the man. The bullet entered at the top of his skull, above his left eye, and exited at the base of his skull, behind his left ear.
The man known in the neighborhood as the homeless guy with the soccer ball was dead.
In San Francisco, one out of every 200 people sleeps on the streets each night.
They have lost their homes, and they have lost their names: to homeowners, to apartment dwellers, to politicians, and often to each other, they are only the homeless.
But the homeless man who was killed by police on the streets of San Francisco, on 7 April 2016, had a name, and he had a home.
His name was Luis Demetrio Gngora Pat, and his home was a modest, one-story house a few blocks from the central square of the tiny Mayan village of Teabo, in the Mexican province of Yucatn.
It was a house built slowly, room by room, over the course of seven years, with the remittances Luis Gngora sent home from San Francisco.
It was a home Luis Gngora never set foot in.
He left so he could build this house, said Fidelia del Carmen May Can, Gngoras widow, as she sat in her sun-filled living room with pictures of her children on the walls, a San Francisco Giants cap on the shelf, and a shrine of flowers, candles, icons, and a framed photograph of her husband on a small table.
I want people to know that we are without him. The hope of being with him no longer exists.
The life and death of Luis Gngora occurred at the intersection of twin crises: homelessness and police killings. Amid a tech-fueled economic boom, the major cities of the US west coast have become as notable for their sprawling homeless encampments as they are for their billion-dollar companies.
Seattle has Amazon, and the Jungle. Los Angeles boasts Snapchat, and Skid Row. Throughout the seven square miles of San Francisco, tent cities compete for space on the sidewalks with the hordes of employees of firms such as Twitter, Google, LinkedIn, and Airbnb.
The encampments can be magnets for crime and police.
No one tracks police brutality against the homeless, but a review of media reports reveals that at least thirteen of the 1,146 people killed by police in 2015 were homeless. Given a homeless population of about 565,000 in 2015, that means the homeless were 6.5 times more likely to be killed by police than the rest of the population.
The plot of sidewalk where Luis Gngora pitched his tent for the last few months of his life is about 3,000 miles away from where he grew up.
Teabo is a poor village, but even there, Luis Gngoras familys poverty stood out . His father, Demetrio, worked as an assistant for the local butcher, where he was paid in meat rather than cash. His mother, Estela, raised nine children in a one-room Mayan hut with a thatched palm roof and dirt floor. She rose at 5am each day to prepare the keyem (corn flour mash, diluted in water) for the family to drink for breakfast.
When the children were sick, there was no money for medicine, so Demetrio treated their ailments with traditional herbal medicines.
Perhaps because of this poverty, Luis Gngora would eat anything. He shot loros small green and yellow parrots with just a few ounces of meat on them, if that out of trees with a slingshot, and prepared them like poultry. If he came across a deer, he would try to shoot it and lug it home. The fat black iguanas that skulked among the rocks were good for a meal as well.
When Luis Gngora was just 12 years old, he left school and went to work. His younger brother, Jos, followed a few years later. The pair were the youngest of the Gngora siblings, and wherever Luis went, Jos followed. They did not like school, never learned to read, and were both more comfortable speaking Mayan than Spanish.
We dedicated ourselves to the fields, Jos Gngora said.
Gngora met his future wife, Fidelia del Carmen, when they were 14. They married at 20 and, as their family grew first two boys, then a girl Luis began to travel to Cancn to find work.
Read more: https://www.theguardian.com/society/2016/aug/12/luis-gongora-san-francisco-police-shooting-homelessness