Smith & Wesson profits jumped almost 50% after Orlando and Dallas shootings
The second largest gunmaker in the US made $87.6m in latest quarterly profits in same period during which two of Americas worst mass shootings occurred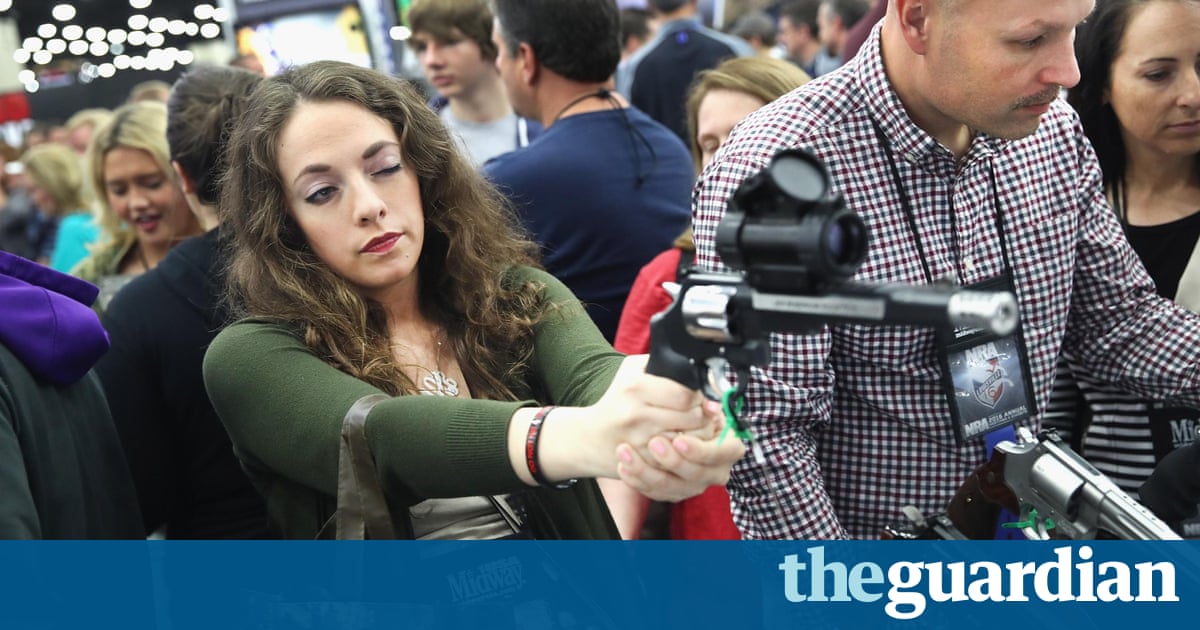 Another quarter, another shooting, another boost in profits. Americas second largest gunmaker posted a 49% jump in profits on Thursday, for the three months ending 31 July.
Smith & Wessons latest quarterly profits totaled $87.6m, up from $58.9m for the same period a year ago, the company announced on Thursday. The sales boost came in a period that included two of Americas worst mass shootings, the Orlando nightclub shootings in June and the Dallas police shootings in July.
We are very pleased with our first-quarter results, which exceeded our financial guidance. We believe that higher revenue was driven by strong consumer demand as reflected in adjusted background checks from the National Instant Criminal Background Check System (NICS) as well as our own market share gains, James Debney, Smith & Wesson president and chief executive officer, said in a statement.
Nearly 2.2m firearms background checks were processed this July, up from 1,600,832 last year. After those figures were reported on 1 August, Smith & Wesson shares surged and were trading at $30.59 a share. The stock closed that day at an all-time high of $30.36.
As of Thursday, the NICS has yet to report the number of background check processed in August.
Background checks are not the most accurate way to predict sales as some checks do not result in sales and multiple firearms can be purchased with one background check. However, the metric is used to gauge the demand in the sector. The spike in demand driving up the value of gunmakers stock has been attributed to increased calls for gun control regulations following a series of mass shootings.
The news comes just months after the company announced $293.8m in profits for its last fiscal year, a 50% increase on the year prior.
Just before Smith & Wesson announced its total earnings for 2016, 49 people were killed at a gay club in Orlando. Not even a month later, five police officers were killed and seven were injured in shooting in Dallas. Gunmakers stocks surged following both shootings.
When speaking with investors in June, Debney said it was too early to tell if the Orlando shooting would have any impact on the sales of its firearms. The companys guidance for this quarter did not include a jump in demand.
Net sales for the quarter were $207m compared with $147.8m for the first quarter last year, an increase of 40.1%.
This is Smith & Wessons first quarterly report since it acquired Crimson Trace, which specializes in laser sighting systems, and Taylor Brands, a designer and distributor of knives.
At the beginning of 2016, the company announced that it was looking to expand into the outdoor sporting goods market so as to not be over-reliant on the volatile demand for guns. The expansion plan announced in January could take up to five years to execute.
With these acquisitions, Smith & Wesson is on the way to become a leader in the market for shooting, hunting and rugged outdoor enthusiasts, Debney said. Considering the acquisitions and the strong performance in the first quarter, the company has revised its outlook and raised its full year revenue and net income guidance.
Read more: https://www.theguardian.com/us-news/2016/sep/01/smith-and-wesson-guns-profit-orlando-dallas-shootings