Broncos' Brandon Marshall dropped by sponsor after kneeling during anthem
Denver linebacker loses endorsement deal with Air Academy Federal Credit Union after following Colin Kaepernick in refusal to stand for national anthem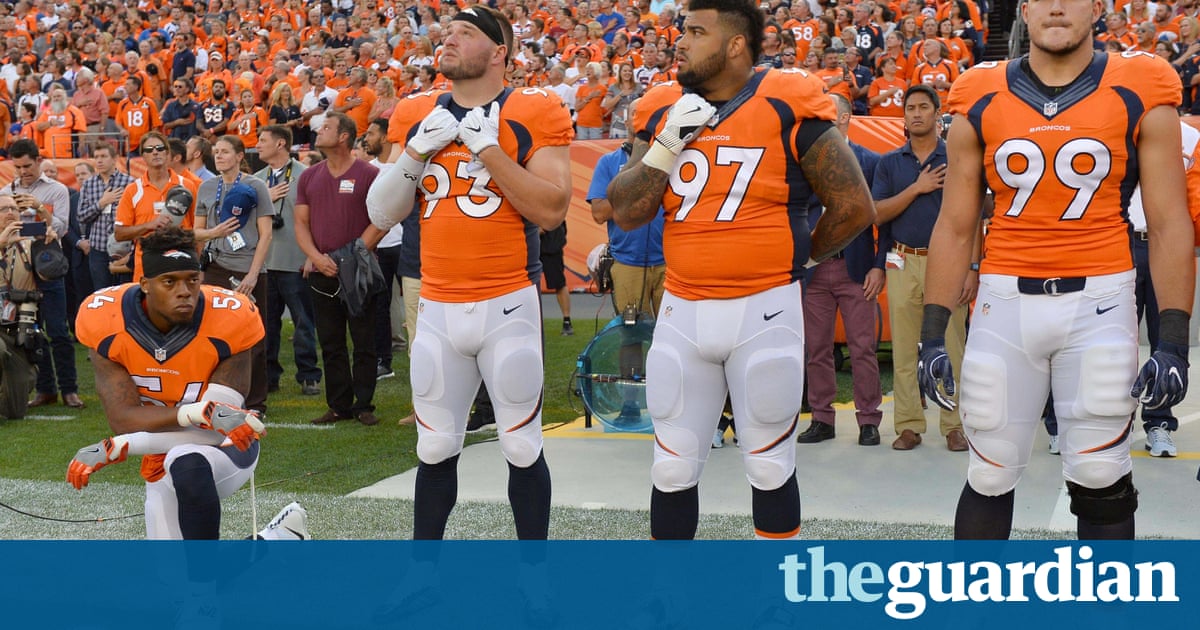 The Denver Broncos linebacker Brandon Marshall has lost an endorsement from a sponsor after following Colin Kaepernick, the San Francisco 49ers quarterback, in refusing to stand for the national anthem before an NFL game.
Air Academy Federal Credit Union president and chief executive Glenn Strebe said the company respected Brandons right of expression but would no longer employ him as a spokesman.
Kaepernick refused to stand for the anthem in the 49ers preseason games, saying he was protesting racial oppression and police brutality in the US.
Marshall knelt during the playing of the Star-Spangled Banner before the Super Bowl champion Broncos season-opening 21-20 victory over the Carolina Panthers in Denver on Thursday night.
After the game, he told reporters he had knelt because Im against social injustice. Im not against the military, the police or America at all. Im against social injustice.
On Friday, in a statement on Facebook, Strebe said: Although we have enjoyed Brandon Marshall as our spokesperson over the past five months, Air Academy Federal Credit Union (AAFCU) has ended our partnership.
AAFCU is a membership-based organization who has proudly served the military community for over 60 years. While we respect Brandons right of expression, his actions are not a representation of our organization and membership. We wish Brandon well on his future endeavors.
There is no formal or legal link between the playing of the national anthem before NFL games and honouring or respecting the US military, but cultural links between the league and the military are strong.
On Wednesday, NFL commissioner Roger Goodell said of Kaepernick: I dont necessarily agree with what he is doing. I support our players when they want to see change in society, and we dont live in a perfect society.
On the other hand, we believe very strongly in patriotism in the NFL. I personally believe very strongly in that. I think its important to have respect for our country, for our flag, for the people who make our country better; for law enforcement, and for our military who are out fighting for our freedoms and our ideals.
Von Miller, the Broncos Super Bowl MVP linebacker, said after Thursdays game that though he was not going to kneel for the national anthem he felt it should be a change.
Kaepernick, he said, had really brought the topic, brought it into the conversation. Im with Colin all the way.
Kaepernick and the 49ers begin their season on Monday, against the Los Angeles Rams. Players with the Seattle Seahawks have said they may stage a team-wide protest in support of Kaepernick before their opener, against Miami on Sunday.
Read more: https://www.theguardian.com/sport/2016/sep/10/brandon-marshall-sponsor-national-anthem-protest