YG seizes mantle of rap's most outspoken Donald Trump critic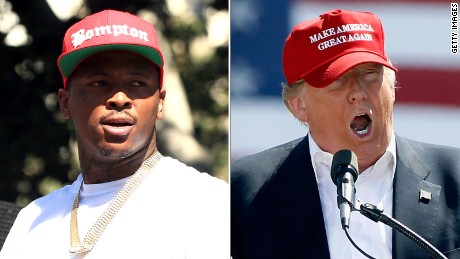 (CNN)Rapper YG really wants you to know he doesn't like Donald Trump.
While other hip-hop artists like Rick Ross, Jeezy and TI have publicly dissed the Republican presidential nominee, none have gotten as much traction as YG, and arguably, none have been as singularly focused.
In the lead-up to his second studio album, "Still Brazy," the California rapper dropped a single called
"FDT,"
a song whose title is made up of the GOP nominee's initials and an expletive.
As the track opens, YG says, "Me and all my peoples, we always thought he was straight, influential motherf—er when it came to the business. But now, since we know how you really feel, this is how we feel. F— Donald Trump." Then he launches into his anthem, cursing the real estate mogul's name dozens of times.
It was something of a new area for the West Coast rapper. The songs off his first album, like "Bicken back being bool" or "Who do you love," were largely apolitical, even if they did veer into socially conscious territory once in a while.
By his own admission, YG is "not political." He told CNN in a wide-ranging interview about his music over the summer his concerns over issues like Trump's anti-Mexican rhetoric and his dismissal of police brutality and the Black Lives Matter movement led him to speak out.
"He can't be counted on to handle these issues. This issue is important to the black community, period. It's life," YG said. "This s— is bigger than hip- hop. … We're supposed to use our platform to speak up and bring our brothers together and put some light on some of this s— that's not right for our people."
But YG did not leave it at that either. In mid-August, he announced a nationwide "F— Donald Trump" tour, giving the song a final whirl before Election Day. Then in mid-September he
released a skit
teasing his tour, where an actor playing Trump says "what do they got to lose," recalling the Republican nominee's outreach to African Americans.
The rapper has not decided whether he will vote in November and said that his opposition to Trump is not a show of support for Democratic presidential nominee Hillary Clinton.
"Out of Donald Trump and Hillary Clinton, I would rather Clinton be president but just overall, I would rather Obama have a third term," YG said.
Read more: http://www.cnn.com/2016/09/20/politics/yg-fdt-donald-trump-election-2016/index.html