Facebook temporarily blocks Black Lives Matter activist after he posts racist email
The ban against Shaun King, which was revoked as a mistake hours later, is the latest incident of site censoring users following Vietnam war photo removal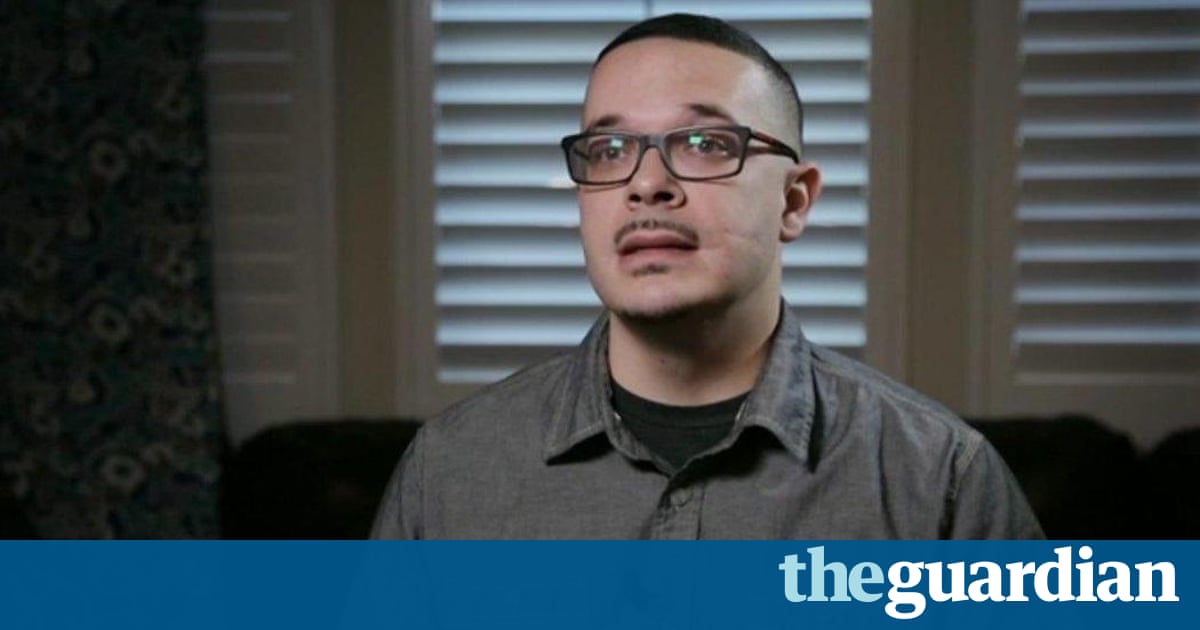 Facebook temporarily banned a well-known Black Lives Matter activist and writer who posted a racist message he received, raising fresh questions about the way the social media site censors journalists.
Shaun King a senior justice writer for the New York Daily News, who frequently writes viral stories about police brutality posted on his Facebook page a screenshot of an email that twice called him the N-word, saying FUCK YOU N*****! The technology corporation said it was blocking him from posting for 24 hours, saying he had violated its community standards.
The ban, which Facebook later revoked and said was a mistake, comes amid a heated debate about the questionable editorial policies of the company, which now plays a major role in how people consume news.
Facebook faced international scorn last week when it censored a Norwegian writers post featuring the historic Vietnam war photo of nine-year-old Kim Phuc running naked from a napalm attack. Journalists criticized the decision, saying the Pulitzer-winning image had clear news value, and Norways largest newspaper published a front-page letter to CEO Mark Zuckerberg, urging him to live up to his role as the worlds most powerful editor.
After the intense backlash, Facebook reinstated the photo, but media ethicists said the spat exposed fundamental flaws and unresolved challenges in the way the company controls the news. While Zuckerberg continues to insist that his corporation is a platform and tech company and not a media site or publisher the reality is that Facebook has become a primary news source for many users and a vital tool for reporters.
Facebooks expanding power in the media business has created anxiety for news publishers, who have lost ad revenue as a result and have lamented how Facebooks algorithms can drive or kill traffic to news sites.
The temporary ban against King offers a reminder of how much control Facebook has and how the site doesnt always get it right when choosing what content to allow or reject.
I love Facebook. Its a huge part of what I do every day, King said in an interview. Facebook is as important to me as my laptop.
So when King saw he could no longer post, it was startling.
This thing that I had taken 10 years to build, this community with over 800,000 people to think that with a keystroke or a computer filter, that could be shut down, its a weird feeling.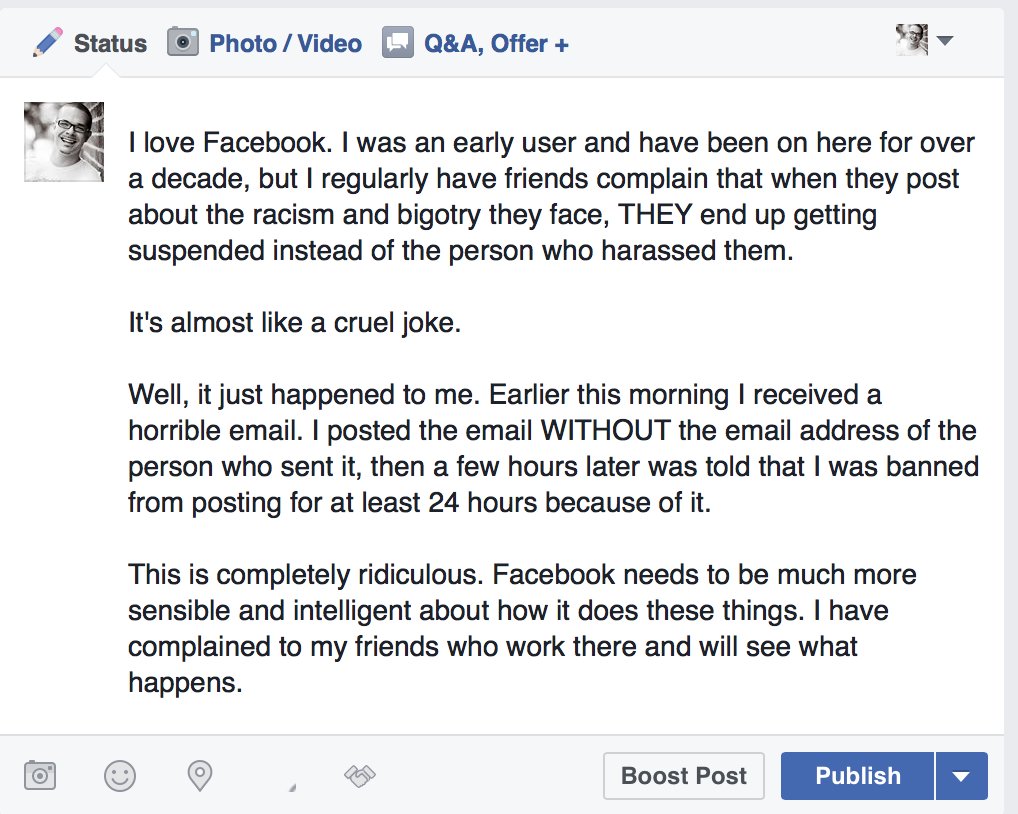 King, who was a guest speaker at Facebook earlier this year to discuss Black Lives Matter, said he reached out directly to people he knows at the Silicon Valley company.
He said that roughly six or seven hours after he was banned, the company restored his access. Facebook wrote to him: This was a mistake, and we sincerely apologize for the error. A team member had accidentally removed his post, the message said.
For regular users without direct connections to Facebook, the outcome could have been different, King said.
A lot of people who do exactly what I did get suspended, and they dont have somebody to contact. Sometimes, theyre suspended for several days, weeks or months.
After the war photo dispute last week, journalism experts argued that Facebook needs trained editors and reporters to handle the tough ethical decisions that newsrooms typically make, and many have pointed out that the companys algorithms are insufficient.
When Facebook recently fired a team that managed its trending section, the sites algorithm started promoting fake stories.
In a statement to the Guardian on Monday, Facebook said: The post was removed and profile suspended in error and restored as soon as we were able to investigate. Our team processes millions of reports each week, and we sometimes get things wrong. Were very sorry about this mistake.
A spokesperson said the content did not violate the companys standards.
King noted that Facebooks censorship decisions can have a huge impact on peoples lives, citing the recent case of the company shutting down the livestream of Korryn Gaines, a Baltimore woman who was engaged in a standoff with police. Officers subsequently killed her.
In his recent post on censorship, King pointed out that some users have had accounts suspended for FIGHTING BIGOTRY while the bigots often seem to be able to say whatever the hell they want.
I want them to filter out some of the ugly hateful stuff, he said in interview, adding that he has a lot of sympathy for Facebook and there is no easy solution. It just again reveals how damn difficult it must be to manage this platform.
Still, King said his ban, even if it was brief, served as a wake-up call about Facebooks extreme power over its users.
You realize very quickly that you dont own it, he added. They didnt shut down my Facebook page. They shut down their Facebook page that they let me use.
Read more: https://www.theguardian.com/technology/2016/sep/12/facebook-blocks-shaun-king-black-lives-matter