Turkish police use tear gas, water cannons against protesters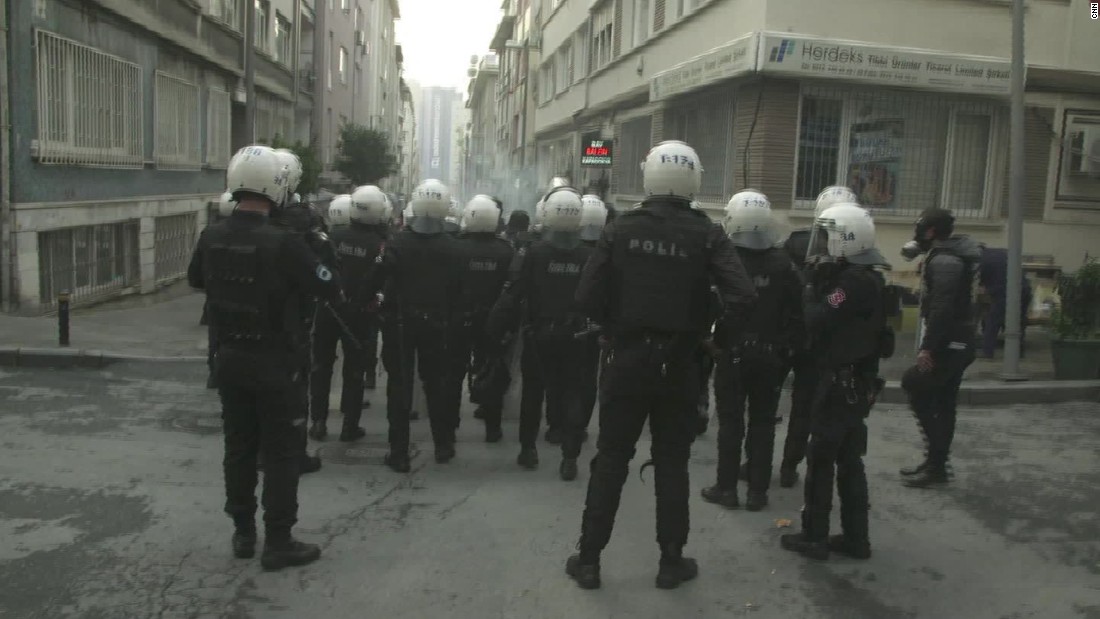 Istanbul (CNN)Clashes erupted Saturday in Istanbul between police and protesters demonstrating against the arrests of opposition politicians and journalists.
Turkish police in riot gear used tear gas, stun grenades and pepper spray to break up a crowd of several hundred people.
Protesters gathered to voice their anger at Friday's round-up of nearly a dozen pro-Kurdish lawmakers, including the two leaders of the People's Democratic Party (HDP).
They're also upset at the arrest of of journalists and executives of an opposition newspaper last weekend. The staffers were charged with links to the Kurdistan Workers party, or PKK, which is considered a terrorist group by Turkey, the United States and European Union.
Hundreds marched down the streets of Istanbul on Saturday, chanting "We will resist, we will win." Police issued several warnings via loudspeaker but were unable to disperse the crowd.
Officers then fired tear gas and aimed water cannons at the crowd as the protesters marched from Sisli, a district on the European side of Istanbul, to the headquarters of opposition newspaper Cumhuriyet.
While ISIS is suspected in bombing attacks that have killed hundreds of people in Turkey, Friday's bombing is believed to be the first time the terrorist group has taken credit for an attack inside Turkey — one of their primary jihadist recruiting grounds.
The Kurds are Turkey's largest ethnic minority. They have fought for equal rights and greater autonomy for decades — and the PKK has carried out attacks primarily on Turkish government and military targets.
Read more: http://www.cnn.com/2016/11/05/europe/turkey-protests/index.html