New York first-night moviegoers shrug off The Birth of a Nation controversy
This is bigger than Nate Parker, says one fan of the film about Nat Turners 1831 slave revolt which has been overshadowed by its director, writer and stars past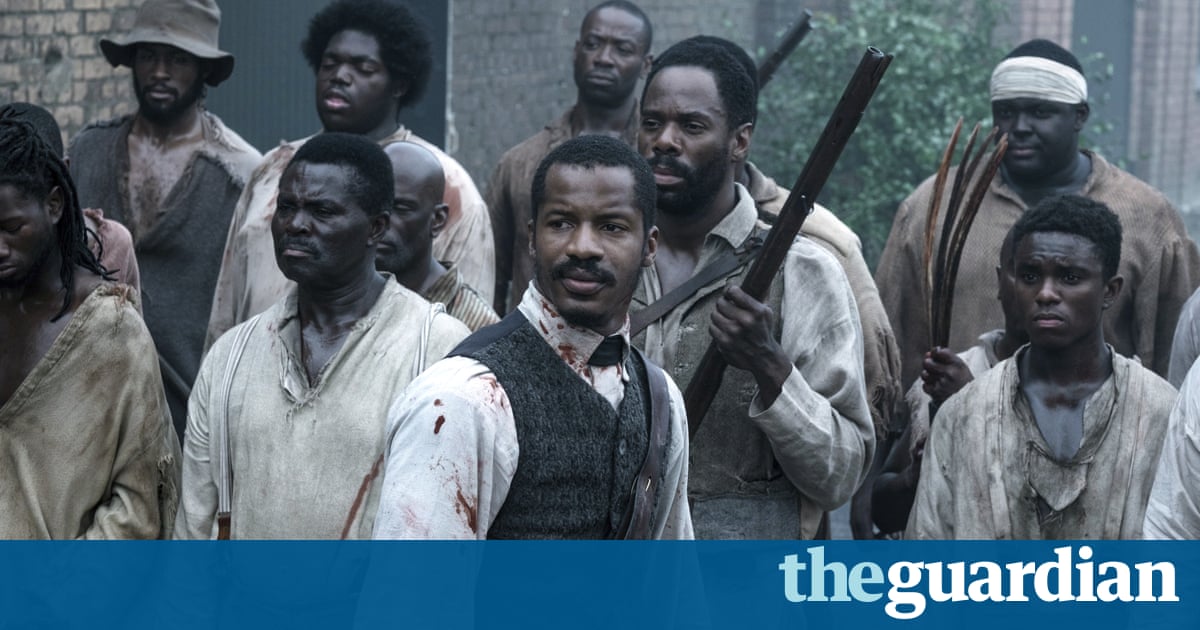 Tai Bosmond first read the story of Nat Turner when she was in college. Now in her 40s, she has waited 20 years for a film to be made about the 1831 slave rebellion.
Bosmond made sure to buy tickets to Fridays opening night of The Birth of a Nation, the writer, director and star of which, Nate Parker, has become embroiled in a whirlwind of controversy.
This is bigger than Nate Parker, Bosmond said, in the lobby of the AMC 25 Theatre in Times Square, New York City. Its bigger than all of this. Im not gonna lose sight of that.
The Birth of a Nation debuted at Sundance earlier this year, to mostly positive reviews, and, after winning the grand jury prize, was bought for a record-breaking $17.5m by Fox Searchlight. However, the buildup to its release has been largely overshadowed by revelations regarding Parkers past.
In 1999, Parker and a friend, Jean Celestin, who has a writing credit on The Birth of a Nation, were accused of rape while attending Penn State University. Parker was acquitted; Celestin was found guilty then acquitted on appeal.
The incident came to light again in August, when reports surfaced that the victim in the case had killed herself in 2012. The case quickly became the main theme of coverage surrounding the film. Calls for a boycott grew.
On opening night in New York, many moviegoers were moved by the weight of Nat Turners story.
The controversy surrounding it is irrelevant to me. I think the story is so important it needs to be told, said Kim Bush, attending with two friends. I grew up in the south, I grew up in South Carolina, and in our classes, we werent taught the history of Nat Turner.
Nat Turner led a slave rebellion in Virginia, in 1831, going from plantation to plantation to free slaves and recruit them. The rebellion was put down by white militia and Turner was hanged.
Some moviegoers said the story was now relevant, given current conversations around police brutality towards African American men. Many were also glad to see a film directed, written by and starring black man in predominantly white Hollywood, home of the #OscarsSoWhite controversy last year.
I really wanted to see a film that portrayed us in a better light, said Quinton Cameron, who had come with his girlfriend to see the film at the Regal Battery Park. And it didnt have the proverbial white hero narrative. This film is really historic as far as storytelling goes.
Bosmond, a high-school teacher, felt this story was important for people to know. This is not 12 Years a Slave, she said, referring to Steve McQueens 2014 Oscar winner. This is a slave who rebelled all the way. This is the kind of stuff they kept from our kids, out of the libraries, out of the schools.
In Los Angeles on Thursday, activists from the group Fvck Rape held a silent vigil at the opening of The Birth of a Nation. About 50 people attended.
Nate Parker has the platform at this time to speak to his brothers on how to listen to us, respect our boundaries and rights as women and lead the conversation on consent, the vigils organizer, Elyse Cizek, said in a statement.
When this happens, when he is willing to listen before silencing us, and when he can join the dialogue on what can be done to advance the voices of women everywhere silenced by rape culture and toxic masculinity, I will be his greatest support.
Parker has drawn criticism for his refusal to apologize for the Penn State incident in recent interviews with 60 Minutes and the Steve Harvey Show. Some critics have panned the film, the New Yorker saying it wasnt worth defending. Box office returns are expected to be meager.
As he bought tickets, Andrew Davies said he understood the call for a boycott or backlash, but said many things in America were created by people who have questionable histories.
If thats the case, unfortunately, you would boycott everything that white people do, Davies said. People do bad stuff all the time. Unfortunately when its black folk, we get more of a spotlight on us.
Isaiah Williams, who was going to see the film for the second time, said: If you really want to get technical, Mount Rushmore was built by a Klu Klux Klan member. I dont seem them talking about that.
Some moviegoers expressed sadness that Turners story was now tied to Parkers past.
Its just a very messed-up situation, said Quinton Cameron. I hate that from now on, Nat Turner and him are going to be linked because of that.
Read more: https://www.theguardian.com/film/2016/oct/08/birth-of-a-nation-movie-opening-night-nate-parker-controversy