Tulsa Officer Betty Shelby booked, released on bond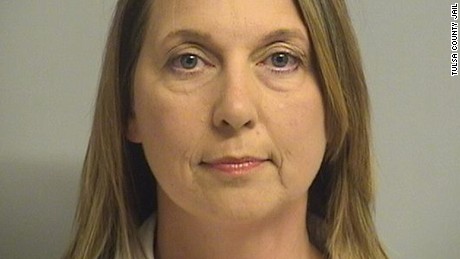 Tulsa, Oklahoma (CNN)Hours after a prosecutor accused her of "unlawfully and unnecessarily" shooting an unarmed man dead in the middle of a street in Tulsa, Oklahoma, Officer Betty Shelby turned herself in early Friday.
Shelby, who's charged with manslaughter, was booked into the local county jail and released shortly afterward on $50,000 bond.
Key points from the court documents
Filings in the case give a glimpse of the arguments prosecutors could make eventually in court.
After summarizing what videos of the shooting show in a probable cause affidavit, Tulsa County district attorney's office Investigator Doug Campbell came to a conclusion.
Shelby, he wrote, "reacted unreasonably by escalating the situation … becoming emotionally involved to the point that she over reacted."
The criminal complaint against Shelby said her "fear resulted in her unreasonable actions which led her to shooting" Crutcher, 40. She is accused of "unlawfully and unnecessarily" shooting him after he did not comply with her "lawful orders."
The possible penalty for conviction on first-degree manslaughter in Oklahoma is four years to life, according to Susan Witt, the spokeswoman for the district attorney's office.
Attorney: Officer has gotten death threats
Wood, Shelby's attorney, said the officer has been receiving death threats.
Asked where Shelby went after her release from jail Friday morning, Wood said, "We just want to make sure she is in a safe place at all times."
But not all the responses have been negative, he said.
Wood told CNN he's received many calls from lawyers and expert witnesses who want to help in Shelby's defense.
Sister: 'The chain breaks here'
Attorneys for Crutcher's family said Thursday they will be seeking a "vigorous prosecution" that results in a conviction.
"This is a small victory," Crutcher's twin sister, Tiffany, told reporters.
"The chain breaks here. We're going to break the chains of police brutality," she added. "We know the history."
Shelby was the first officer to arrive on the scene, though she was not responding to the 911 call. She was on her way to a domestic violence call when she saw Crutcher standing in the street, according to investigators.
She stopped behind his car, which was a block away.
The chief investigator said in an affidavit that Shelby then approached the car, "cleared the driver's side front and then proceeded toward the passenger side of the vehicle." Then she saw Crutcher and talked to him.
"He was mumbling to himself and would not answer any of officer Shelby's questions," according to the affidavit.
Police cameras, including ones mounted in squad cars and in a helicopter,
captured the Crutcher shooting
on tape. In the video, Crutcher can be seen with his hands raised above his head before his death. He walks away from Shelby toward his car.
There was no weapon found in the car.
Read more: http://www.cnn.com/2016/09/23/us/tulsa-officer-booked-released-on-bond/index.html